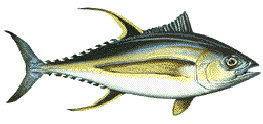 TUNA
Rigtige navn: Yellowfin Tuna, Allison Tuna, Backache
Gennemsnitsvægt: 30 lb. - 70 lb.
IGFA -rekord: 388.8 lb.
Almindelige navne: Yellowfin Tuna, Allison Tuna, Backache
The Yellowfin is perhaps the most colorful of all the tuna. Found globally in tropical and subtropical seas, it's one of the world's most popular fish. Even small Yellowfin tax light tackle to the limits, and the brute strength of larger fish requires heavy stand-up gear. Not only great gamefish, Yellowfin are mighty tasty. This dual attribute causes anglers to travel thousands of miles to reach these 'destination' fish. Wherever found, Yellowfin tuna will have a following, both sport and commercial.M A pelagic species, Yellowfin are fond of deep blue water. In the Atlantic, they will be found in the Gulf Stream year-around. The flesh of this fish is light, not dark like the Bluefin or white like the Albacore. Yellowfin can sometimes be distinguished from near cousins, Blackfin and Bigeye Tuna, by their long second dorsal and anal fins, but not all individuals have this exaggeration. In a sense, Yellowfin are an eating-machine, putting on pounds like no other fish. A year-and-a-half old Yellowfin can weigh 8 pounds, and by its fourth year the fish will scale out at a whopping 140 pounds.